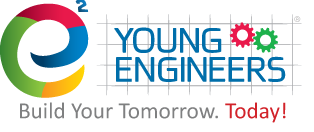 Welcome to e² Young Engineers Twin Cities,  Minnesota website!
We are extremely excited to bring to you e² Young Engineers®, a Robotic & STEM learning program to the Twin Cities area! This program is well received by parents and kids in US, Europe, Asia Pacific and other parts of the world.
e² Young Engineers® programs:
include after-school and pre-school enrichment classes, summer camps and special events where your child will get an opportunity to LEARN while having FUN using motorized building blocks specially developed by e2 Young Engineers®
Developed to encourage logical, conceptual and hands on learning through interactions in the field of a Robotics,  Science, Technology, Engineering and Mathematics (STEM)
Patented robot building and programming learnings (ROBOTICS)
Delivered in a small group setting with attention to individual child utilizing an EDUTAINMENT (Education + Entertainment) approach
Will allow your child to explore their inner creativity and inventive genius through the leanings of the program.
We invite you to explore our website and learn more about what makes e² Young Engineers® programs the best enrichment program you could provide to your young loved ones!
About the Owner:
We would like to share our story about how we found our inspiration to start this learning program. We are parents living in Woodbury and proud owners of the e² Young Engineers franchise in the Twin Cities Metro area of Minnesota.
Owners: Varsha Pavagadhi and Nina Desai
Director & Instructor: Hitesh Pavagadhi
Based on our teaching experience with our kids, we realized the importance and benefit of STEM learning at an early age. We also realized that conceptual knowledge coupled with practical application reinforces the learning and will stay longer with the kids. We were passionate in sharing our experiences and explored multiple such programs and were excited to look at offerings from e2 Young Engineers, an Israel based company.
e2 Young Engineers approach aligns with our experience in the field of STEM and we believe that this program will offer the learning opportunity to your kids at an early age to better prepare them for the future.
This program offers progressive learning for kids of various age groups starting as early as 4 years. Parents can sign up for the program as short as few months and can have their kids continue over multiple years to prepare them as 'Young Engineers'.
Thank you for reading about us. We look forward to meeting you and your little genius!